Henry Holt and Company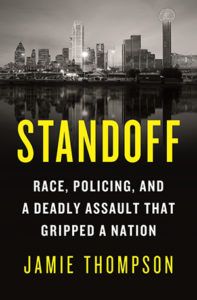 From award-winning journalist Jamie Thompson, Standoff offers a nuanced look at race and policing in America. On the evening of July 7, 2016, protesters gathered across the nation after police shot two black men, Philando Castile and Alton Sterling. As officers patrolled a march in Dallas, a man carrying a rifle killed five officers and wounded eleven others. A small group of cops cornered the shooter, where a fierce gun battle was followed by a stalemate. Crisis negotiator Larry Gordon bonded with the gunman while his colleagues devised an unprecedented plan to bring the night to its dramatic end.
The List List is a weekly roundup of the best bookish lists!
at Brightly: Surefire YA Scares: 18 of the Best Teen Horror Books
at Bustle: The Most Anticipated Books Of October Include Some Spooky Halloween Tales
at BuzzFeed: 13 Witchy Books That Will Keep You Spellbound
at Crime Reads: Eight Dazzling Historical Thrillers Featuring Real Life Jewels and Painting
at Electric Lit: 12 Books on How Midwives Are Changing Childbirth
at Entertainment Weekly: 7 spooky novels to read this Halloween season, according to Plain Bad Heroines author Emily M. Danforth
at Epic Reads: 15 Creepy YA Books That Should Be Made Into Horror Movies
at Essence: The Meaning Of Mariah Carey And 9 Music Memoirs That Get Real About The Price Of Fame
at Get Literary: See Some Evil, Read Some Evil with 6 Horror Movie–Book Matchups
at Lit Hub: Read on, if you dare: 20 books that are laced with sinister magic.
at Mental Floss: 11 Women Horror Writers You Need to Read
at POPSUGAR: 22 Spooky New Books That Will Put You in a Halloween State of Mind
at Riveted Lit: 17 Creepy Books That Aren't Scary
at Shondaland: 6 New Books That Inspire Activism
at Tor.com: 13 Haunting Poems to Get You in the Mood for Halloween