If you're one of the millions of viewers who've tuned into the Netflix show Selling Sunset, you'll know resident couple Mary Fitzgerald and her husband, Romain Bonnet. 
The pair lead a glamorous lifestyle in LA where both their professional and personal lives are documented on the popular reality TV series. Fitzgerald is one of the senior associates at The Oppenheim Group — the high-end real estate brokerage firm the show revolves around — and Bonnet is a French pastry-chef-turned-model. 
But before they met in 2017, Bonnet lived in Australia, setting up a home base in Sydney, where he worked as a pastry chef in the affluent suburb of Mosman on the Lower North Shore.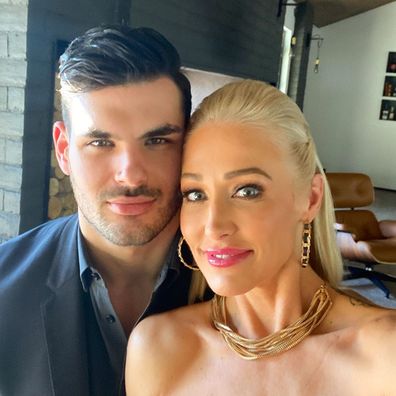 "I used to live in Sydney for three years. I was working in Mosman and living in North Sydney," he reveals to 9Honey Celebrity from LA while promoting the show with Fitzgerald. "It's one of my favourite cities in the world after LA, because I have everything here. But if I could go anywhere, I would go straight back to Sydney. 
"I always tell Mary it's one of my favourite cities — she's never been there and I've always wanted to take her there."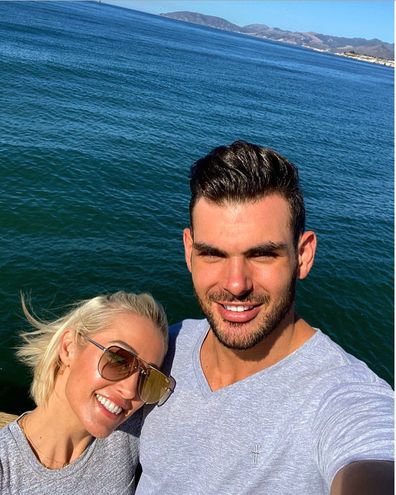 It's been a whirlwind few years for the pair, who celebrated their first wedding anniversary this past weekend — they were engaged in 2018 after one year of dating, exchanged vows in a civil ceremony in October 2019, then celebrated with family and friends in a lavish garden ceremony earlier this year, which featured in Season 2 of Selling Sunset. Fitzgerald was married once before, but her husband sadly died.
In between work and filming the show (not to mention the COVID-19 pandemic), they have yet to go on their honeymoon. So much-needed one-on-one time is at the top of their to-do list once travel resumes.
"When we finally get to go on our honeymoon in Bali, we're probably going to stop over in Sydney," Fitzgerald says. 
It was during Bonnet's three-year stint Down Under that he was discovered and signed by leading model agency Wilhelmina Models, which saw him relocate to LA permanently, where he met his future wife. In an interesting twist, she was actually the one showing him some properties when he first arrived in LA.
"Clients gave me her contact because we were a bunch of chefs coming to LA for work and we were going to look for a place," Bonnet explains. "Mary and I were talking for about six months on WhatsApp because my papers were taking longer than expected. And then when I came here to LA and said, 'I'm finally here', and she was in France [for a friend's wedding]!
"But then she came back and she started showing me around. Then I asked her to go for drinks and that's how it all started."
However, like any relationship, their union is not without its challenges. With a 13-year age gap between them — Fitzgerald is 40 and Bonnet is 27 — the LA realtor wasn't sure it would last.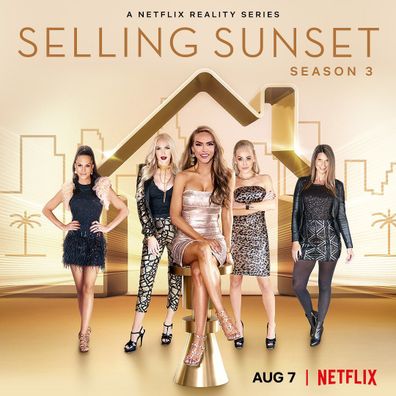 "When I found out how old he was, I was like, 'Oh, my God. This is not going to work.' But he doesn't act his age, though," she says. "We got along so well right from the start. We just had a connection right away so started dating a week later."
Perhaps what makes Selling Sunset so addictive is the willingness of Fitzgerald and her fellow castmates and realtors Chrishell Stause, Christine Quinn, Amanza Smith, Maya Vander, Heather Rae Young and Davina Potratz to open their lives up for the cameras.
Their interpersonal relationships are compelling to watch. Behind the property porn and glitzy LA facade lies major drama between the women and their bosses, twins Jason and Brett Oppenheim — and that's what Fitzgerald thinks appeals to viewers.
READ MORE: Selling Sunset star Davina Potratz doesn't think she's the villain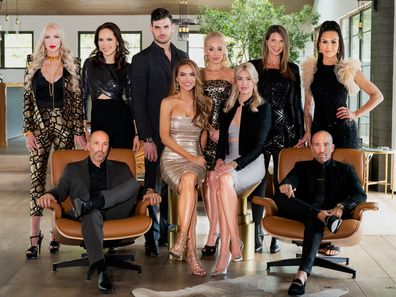 "We just have different relationships than what's on a lot of other shows," she tells 9Honey Celebrity. "It's just interesting because you've got the real estate and a bunch of dynamic characters and women and the twins, then LA — I think a lot of people are just enamoured with LA.
"It's still kind of mind-boggling that so many people are so into the show and interested in our lives. It's very, very cool and also surreal."
READ MORE: Justin Hartley is 'irritated' that his ex Chrishell Stause is talking about their divorce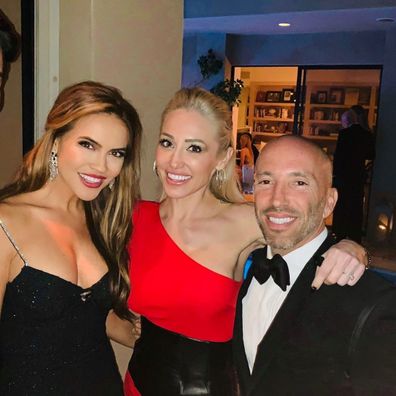 The most recent season of the show left fans on a cliffhanger. To jog your memory, there was a wedding, a divorce and a shock walk-out in the finale.
Fresh from her separation with This Is Us star Justin Hartley, Stause could be seen storming out of the wedding of her arch-rival Quinn after Potratz questioned her role in the shock split.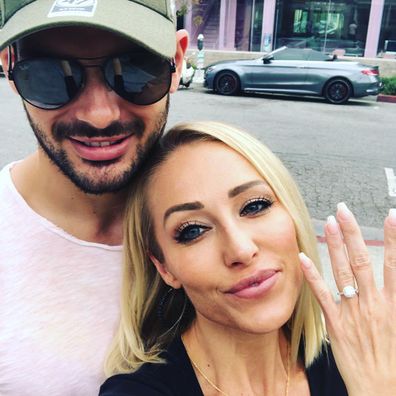 It's easy to see that Fitzgerald is Team Stause on this one, especially after Potratz mocked the engagement ring Bonnet had given Fitzgerald back in Season 1.
The newlyweds have chosen to keep their distance from Potratz ever since, which will be easier now given news Potratz has reportedly left The Oppenheim Group for a rival brokerage. 
"We don't talk at all," Bonnet says when asked about his Potratz. "I really couldn't care less about her. As long as she doesn't do anything against me or say anything, and as long as she stays away from my life.
"I don't hold anything against her but I know that what she has done is enough for me to not want to have anything to deal with that person. I don't have anything bad [against her], but I don't want anything else."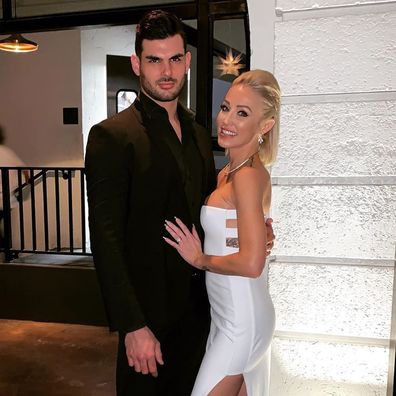 As for Fitzgerald and Quinn, they too had a falling out ahead of Fitzgerald's wedding to Bonnett. The women were best friends before the show premiered last year, even living together at one point in their years-long friendship. 
But that all changed when Quinn expressed her concerns over Fitzgerald's relationship with the much younger Bonnet, while also referring to the now-newlywed as a "f—ing idiot" after not scoring an invite to the second, more intimate bachelorette party.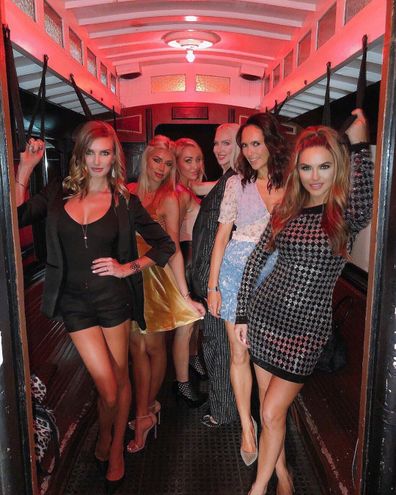 "We didn't really talk for quite a few months. She said some things in the press that were either just completely not true or very below the belt, so I kept my distance," Fitzgerald tells 9Honey Celebrity. "But then I saw something that I could relate to — it had to do with her wedding and I understood where she was coming from — so I thought this is the chance to reach out for the sake of the show and for the sake of everybody.
"We talked and FaceTimed for about an hour and dug into everything that had caused a rift. And we ended on a very good note. It will take more hanging out and talking to rebuild that relationship, but we are in a better place than when you guys saw us in Season 3."
Interpersonal issues aside, Fitzgerald, Bonnet and their Selling Sunset castmates also have outside criticism to contend with. The cast has come under fire with claims they are paid actors and not legitimate real agents — claims they find ridiculous. 
"I don't let that affect me too much. I know who I am, I know how hard I work and with the slightest amount of investigation, people will see it. It's public knowledge — all you have to do is look us up online," Fitzgerald says of talk she's not a realtor.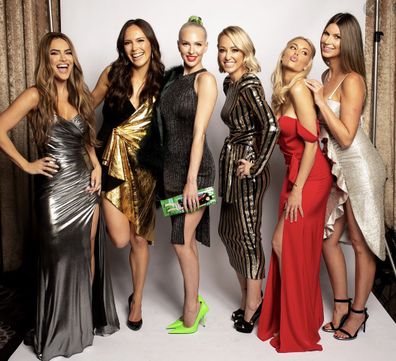 "I'm just going to let my work and success speak for itself. I don't really feel like I have to defend myself. I know what I've done and what I'm currently doing. It doesn't really bother me. I think if it's something personal, like if someone criticised us personally [then it would]. I think everybody in the cast takes it to heart a little bit. It's always hard when people cut you down."
Adds Bonnet, "No matter what you're going to do and who you're going to be, it comes with both [good and bad comments]. You have to let it be. You have to be OK with it. Just be yourself. If you're a good person, there's no reason why people won't like you. And if they don't like you, then that's what it is."
READ MORE: Selling Sunset's Chrishell Stause asks fans to ease up on ex Justin Hartley after actor trolled online amid divorce
Despite the drama, Fitzgerald and Bonnet have no regrets doing the show. 
"We signed up for this and I think it's important to be honest about things and share as much as we can, as much as we're comfortable with," she says. "Poor Chrishell opened up [about her split] and shared one of the most difficult times of her life. And it wasn't easy but she did it. 
"It's part of the show and it's part of all of our lives now. It is what it is, and we just have to suck it up and do it."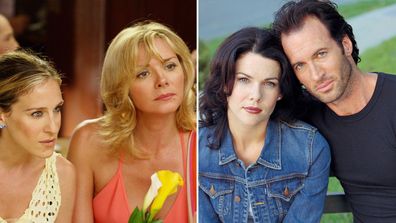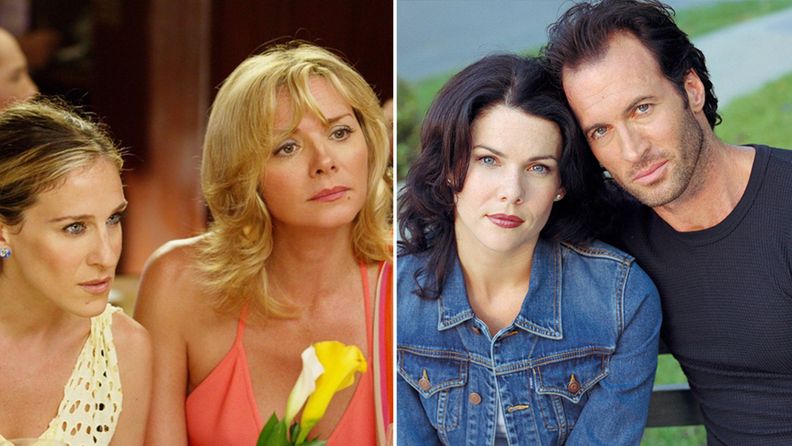 Celebrity feuds: The co-stars who didn't get along